Surat Tilang APK - Criminals are multiplying in the digital world. following a fuss caused by an Apk-format wedding invitation some time ago.
The criminals have recently started acting once more. not with a wedding invitation, though. The wedding invitation from the app prevented it from capturing its victims.
The offender picked up where they left off by handing out an 8.5 MG ticket in the Apk format.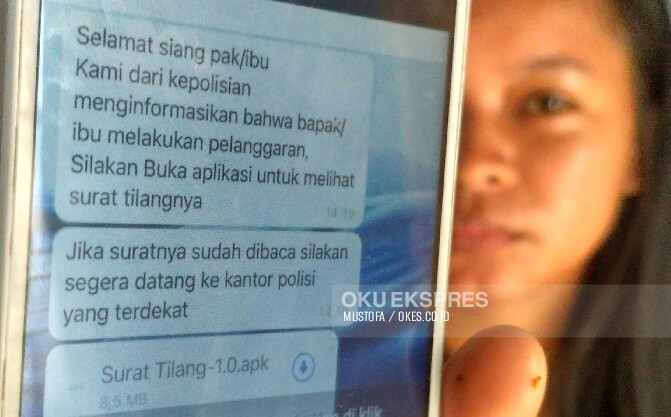 Via WhatsApp, spread. The criminal believed that by using a ticket.apk, a large number of victims would be drawn into his trap.
One of his adherents claimed that the offender had no fear. The secret is to include the police departments.
Some comments requested that the Police Headquarters' cyber unit follow up right away.
Sending ticket letters on WhatsApp is one example of how the online fraud method for sending apk files has expanded to different industries. Look at some arguments against it.
Previously, a number of internet users uploaded chats from individuals who identified themselves as police officials and claimed that the message's recipient had broken the rules of the road.
Also, the sender requested that the recipient open the "Tilang-1.0.apk" file that was also uploaded in the WhatsApp message.
There is no WA for tickets
With the WhatsApp short message service, the West Java Regional Police warned the public to be wary of scams using the Electronic Traffic Law Enforcement (ETLE) electronic ticket system as a front.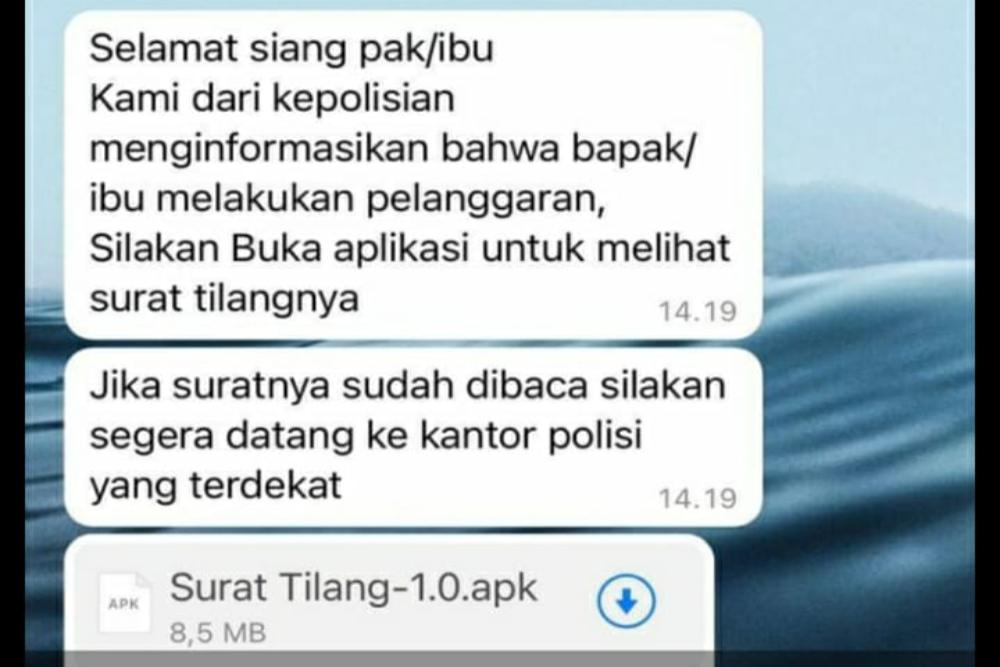 As reported by Tribratanews on Friday, July 10th, West Java Regional Police Chief of Public Relations Kombes Ibrahim Tompo warned, "Be aware of the WhatsApp mode of electronic ticket payment fraud which is now happening in the community under the name of an electronic ticket.
The 1993 graduate of the Police Academy claims that the electronic ticketing system only sends ticket notices via SMS texts, not WhatsApp messaging.
Also, the Briva code is the only way to pay fines—not the account number. He urged members of the public who also got SMS notifications of electronic ticket fine payments to call Polri officials right once or disregard them.
Traffic violations (tickets), including those committed on toll roads, would be sent via mail to the violator's address, according to Polda Metro Jaya Traffic Director Kombes Sambodo Purnomo Yogo.
According to Tribratanews, he stated, "The confirmation letter is in the form of a printout and will be taken by PT Pos Indonesia to be forwarded to the address according to the vehicle database.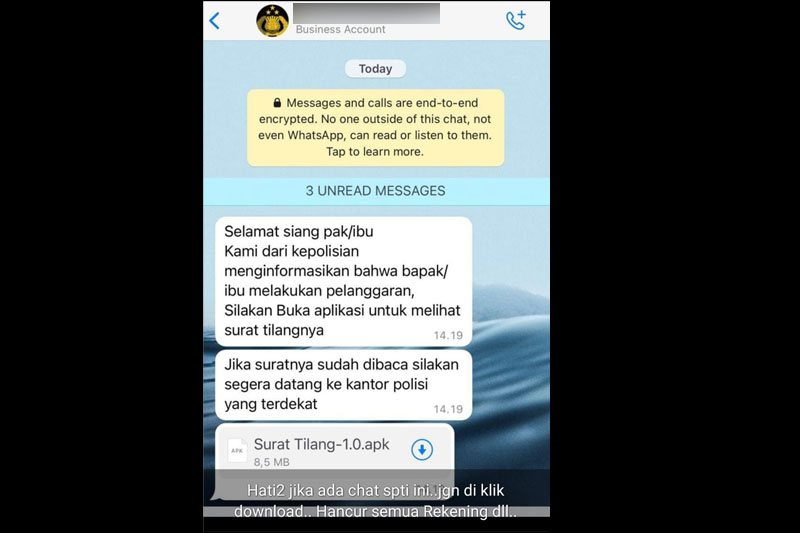 A negative past
An apk file, also known as an application package file, is a file type that is used to distribute and install software or apps on Android-powered mobile devices.
APKs are typically not available in reputable app marketplaces like Google Play store. These kinds of files are occasionally used to test apps that are still in the beta testing phase.