Stumble Guys is an online action game where you can fight with up to 32 other people in fun battles. To win, you'll have to deal with a lot of different problems. It's a game that takes the best parts of the great Fall Guys and combines them into one of the best copies you can find on smartphones.
In this video game version of Takeshi's Castle, the images in Stumble Guys are bright and fun right from the start. Each round has three different tasks, and only a certain number of players will make it to the next round. In each one, your goal is to get to the finish line without hitting any objects. This challenge won't be easy, but it will always make you smile. You'll have to deal with huge snowballs, falling platforms, spinning doors, wrecking balls, and more.
The tools for Stumble Guys make it easy to play. To move, you use a virtual joystick, and to jump, you press a button. You can use this button to get past obstacles, and if you tap it again while you're in the air, it will help you keep moving forward. This strange battle royale is fun not only because of how you play but also because you can use different avatars. When you play games and make gold, you can use it to get new skins.
Stumble Guys is a great multiplayer game with a fun physics system and the excitement of playing against other players to win the desired victory crown. Overall, it's a great clone of The Fall Guys that you can play on your Android phone or computer.
We are happy to tell you about our new Creator Code scheme. This feature is being added slowly and by area to make sure everyone has a good time. Make sure you have the most up-to-date version of the game. If you don't see it, it's because your platform or operating system doesn't have it yet.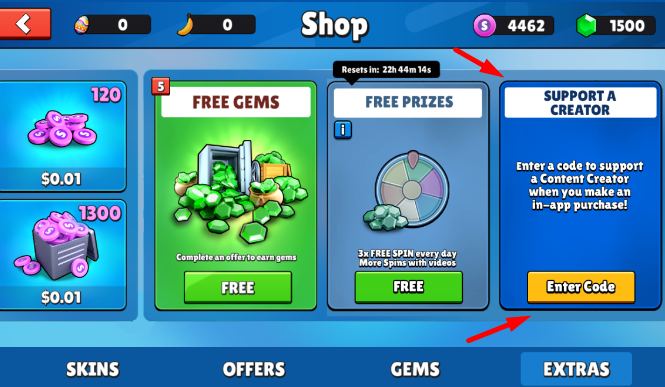 What are Creator Codes?
Creator Codes are unique codes that you can get from your favorite authors. When you use their code to buy in-game cash offers, you're helping them out because they get a cut of the sale.
Run and keep falling over and over
Stumble Guys is an action game in the style of Battle Royale. A group of 32 players must run through different situations with lots of obstacles and try to be the first to reach the finish line. There are more than 15 different tracks, each with its own challenges that lead to a lot of funny situations.
Each game has different parts, or "phases," where players try to get rid of each other. There are also different minigames in each step, like a soccer game where players have to get the ball into the goal.
In the competition mode of Stumble Guys, players can use different strategies to beat other players. For example, you can jump, collide, and push opponents, which can lead to funny falls and situations that will make you laugh until you cry.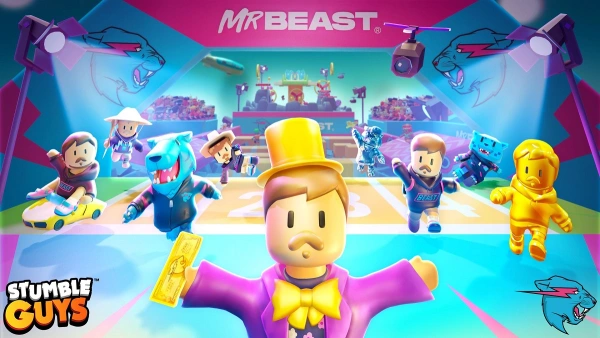 Enjoy yourself with your friends
Players can play matches against people they don't know, but they can also make groups and ask their friends to play and have fun online. The game also sometimes has special events with prizes like new and fun skins, gems, and experience points.
In Stumble Guys, gems are the game's cash. You can use them to buy new ways to customize your characters. On the other hand, as a player gains experience points, they can use them to access new material.
Stumble Guys has a very bright comic style for its graphics, which is also seen in the skins and other ways to change the game. The visual effects of each passed level stay high-quality and add to the player's experience in a good way.
If you've never played before, the similarities between the personalities might be a little hard to understand at first. But part of the challenge of Stumble Guys is that you have to keep your eyes and mind on the screen so you don't make a mistake and get kicked out of the game.
An easy and challenging game for more than one player
Stumble Guys is a good online game for people of all ages who want to have fun because the main goal is clear and the controls are easy. The fact that it has more than one path is also a plus, because it keeps the game from getting boring quickly.
Since Stumble Guys is played online, you need a good internet connection and there may be times when the game doesn't work right or moves slowly. But, all in all, the game manages to give a good time with tasks that are fun and colorful.