Farm City Farming & Building APK - In the world of city-building games and farm games, Farm City is a breath of fresh air!
Create the city you've always wanted! To enhance your farming games, grow crops, feed cattle, and trade the products. With exotic restaurants, convenient community buildings, and breathtaking wonders, you can bring happiness and prosperity to your citizens. Discover the mysterious tunnels buried beneath your own land and embark on a thrilling adventure.
Is there anything holding you back? Become the most successful mayor and build the city of your dreams!
What is Farm City Apk?
These past few years, farming and city-building games have become increasingly popular. The gaming community has been captivated by countless farming simulation games. Games that involve city buildings are no different. This game combines both of these aspects, so if you like both, you'll love it!
Google Play Store users have downloaded more than a million copies of Farm City, a farming and city-building game. Managing a farm and building a city is both possible in this game! Create a thriving community by growing crops, managing livestock, and using your earnings! Enjoy a unique simulation game by building buildings and inviting tons of citizens! This game offers plenty of activities.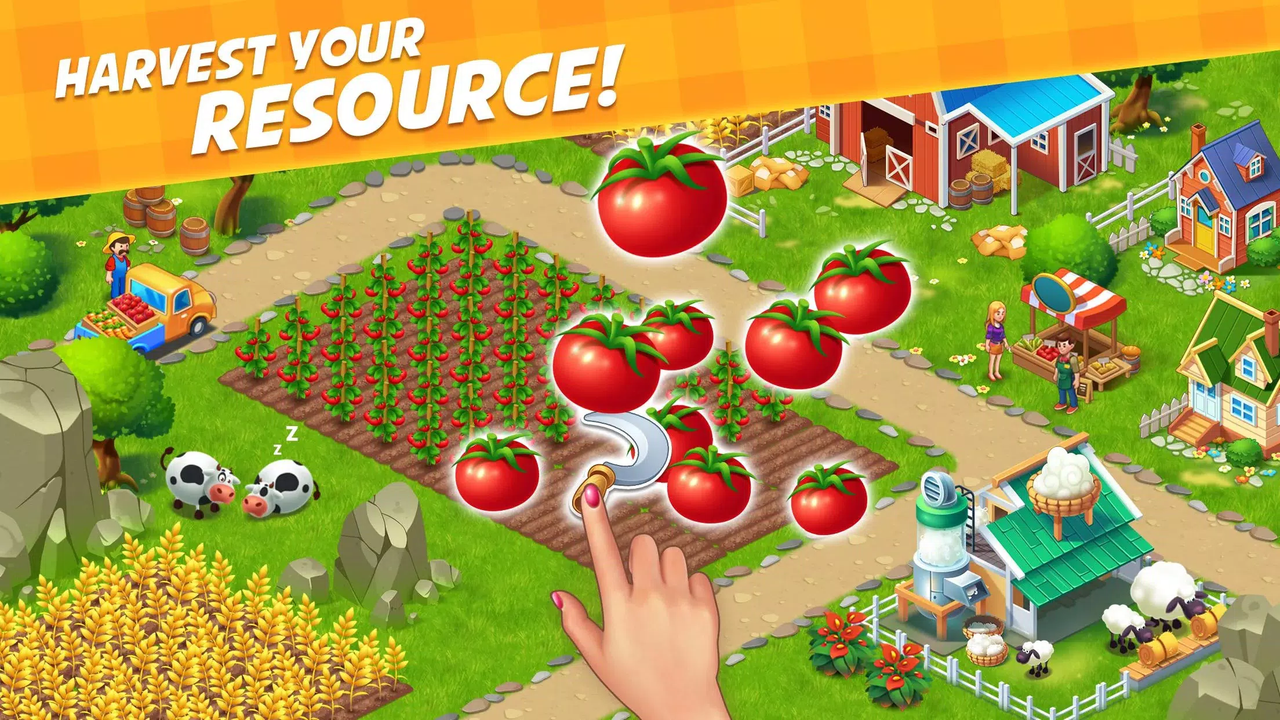 Gameplay:
Whatever way you look at it, Farm City is a great way to spend time. By checking each other's virtual farms, you and your friends can be entertained for hours and learn English at the same time.
In the game, you're in charge of your virtual farm, where you grow crops, tend to your livestock, and do whatever it takes to prosper. Additionally, Farm City allows you to exchange goods you have harvested or grown with your friends.
Farm City Features:
Take care of these adorable farm animals
In your farming factories, you can grow and process a wide variety of vegetables and fruits
Customize the city with advanced factories, dazzling landmarks, and glamorous decorations!
Make new friends by inviting, visiting, and helping your neighbors on Facebook
Meet with kind citizens and deliver their orders directly to their homes. To be a GREAT mayor, you must also help them solve their problems
Explore the underground Ancient City and upgrade the Academy and Foundry with rare minerals
Receive fascinating gifts at the Happy Balloon House
Our unique events offer you the chance to win some special prizes
Make sure your city has a stable future by investing and earning cash in the City Bank
On the Market stall, you can always find a wide variety of excellent farming products and ingredients at great discounts
Beautiful graphics and smooth gameplay in an offline mode allowing you to play the farmer game wherever and whenever you want, like on the bus or while walking.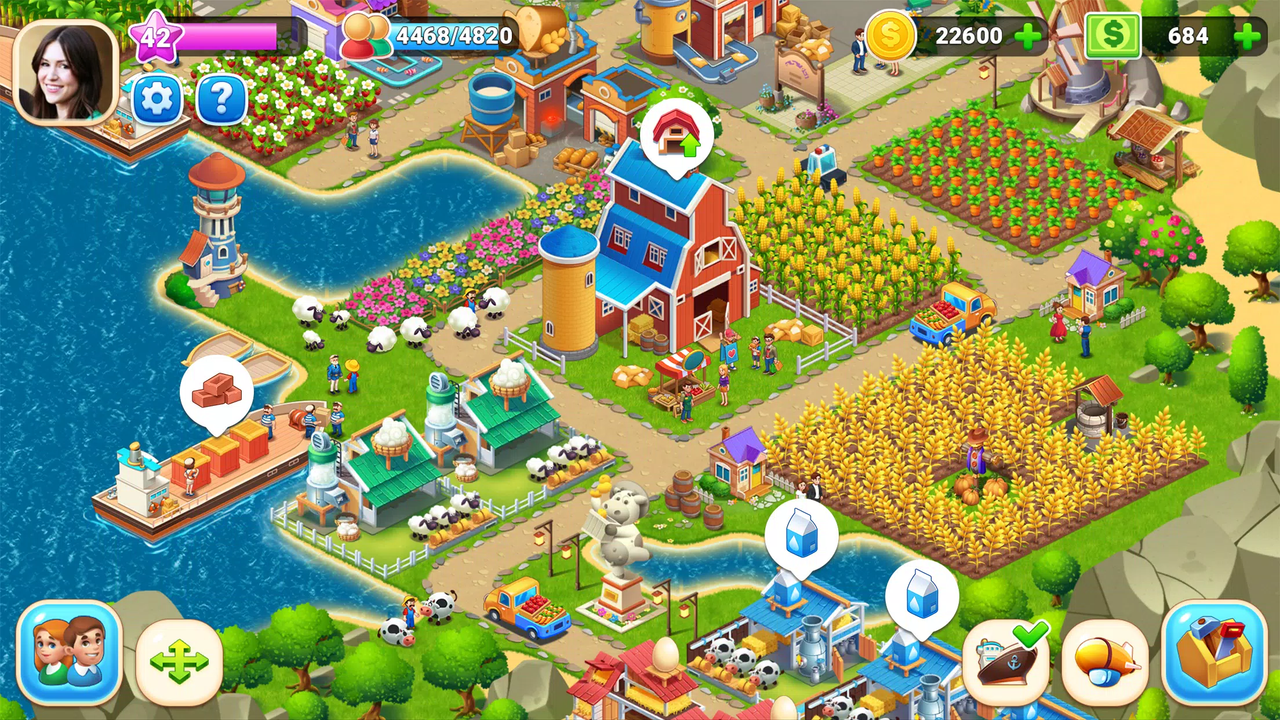 Action and racing games are not suitable for everyone. If you're one of these people, slowing down is the best option, and playing lightweight games will help you unwind and relax. If you like slow-paced games, you should play Farm City. You must have known the name of this game, as it is one of the finest games to play on your Android smartphone. With Farm City, you can easily enter the world of digital farming and get your hands on the same.
With Farm City, you can play a slow-paced game based on a farming scenario. You can use it as a digital farming simulator. A popular farming simulator game for Android thanks to its interesting gameplay. This post contains detailed information about Farm City APK, including the direct download link and the exact installation instructions, which are very helpful when installing manually.
Excellent Storyline
Having a storyline in a game makes it more enjoyable for people to play. The immersive nature of these games makes them highly engaging. You play as a farmer in Farm City. In the beginning, you will get a small plot of land, and you will have to plant many crops in order to get a good yield. Trading will earn you money and allow you to expand your farmland. Once this is done, you will have the ability to build your own farming city. The storyline is so captivating that you will be able to easily immerse yourself in the farming world.
Develop your business acumen
The developers may not have added this as their main feature, but it's one of the many benefits you can get from playing this game. Building a farm, growing crops, and reaping fruits is easy with Farm City. You will also have the opportunity to test your overall trading skills as a result of the trading and business expansion activities. Such activities will help you develop business acumen that will be useful in real life. As you build your Farm City, you will be able to complete multiple levels in this game with business sense.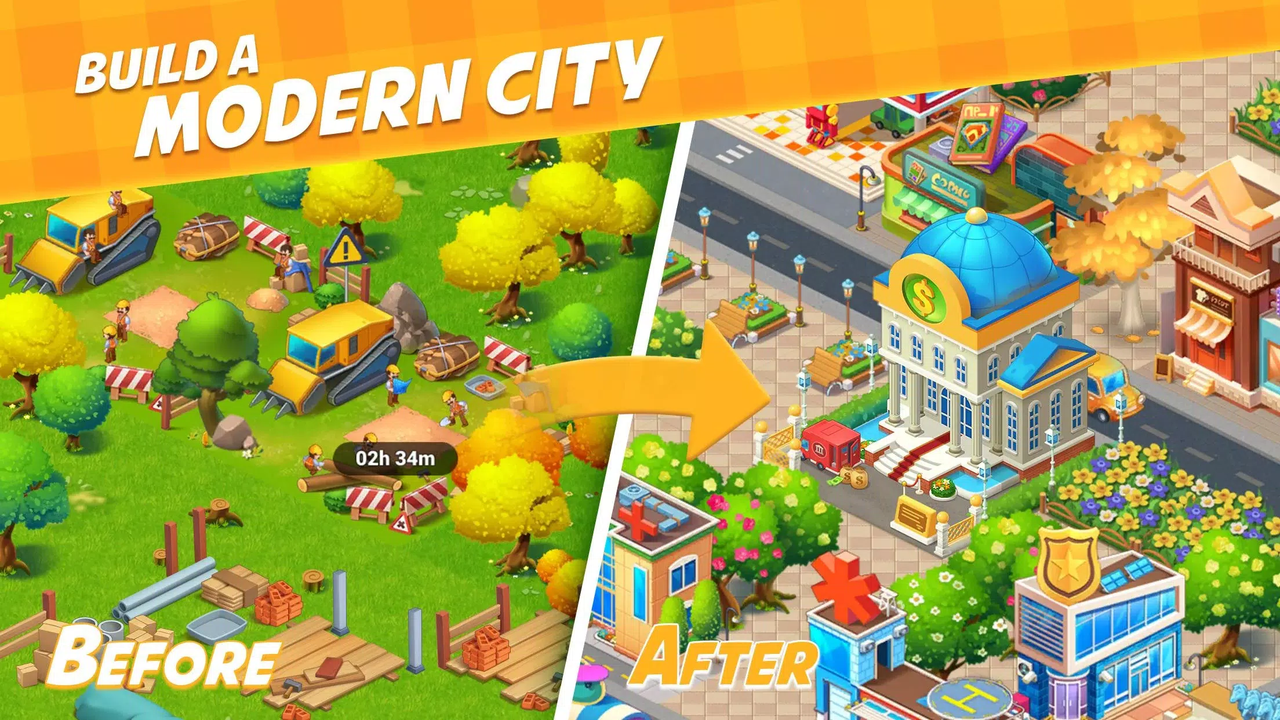 City building customized to your needs
Based on the farming simulator concept, Farm City is an amazing game. Building your city according to your preferences is easy with customized city building options. Things can be moved around easily and a proper layout can be built for your farm, empire, and other things. With a lot of options and the drag-and-drop feature, you can customize your farm and city instead of having a chaotic one.
Multiplayer
Farm City comes with the Multiplayer mod if you tire of playing alone and want something interactive. You can play multiplayer with people around the world in multiplayer mode. Interacting with other players, helping them build their empires, and getting help while building yours is the best part of the game. As a result, the overall gameplay experience will be enhanced. You can immerse yourself in the gameplay even more with the multiplayer mode.
No Ads
Playing the game always irritates the users because of the annoying ads. This game is engaging due to its unique gameplay. An annoying ad breaks the engagement, however. If you'd like to avoid the same, you can download the Farm City APK, which does not contain advertisements. The gameplay is immersive and surreal without any advertisements.