Dino Hunter APK - It's either hunt or be hunted! The ultimate dinosaur hunting adventure awaits you in Dino Hunter: Deadly Shores.
You play a dinosaur hunter on a mysterious island facing the fiercest creatures in Dino Hunter: Deadly Shores.
The objective of Dino Hunter: Deadly Shores is much the same as that of Deer Hunter: you must bring back different types of wild game. In this game, however, dinosaurs of every kind make up the entire game.
Dino Hunter: Deadly Shores' missions are generally quite short: skilled gunslingers may complete them in under two minutes. Don't agitate the more aggressive dinosaurs, however.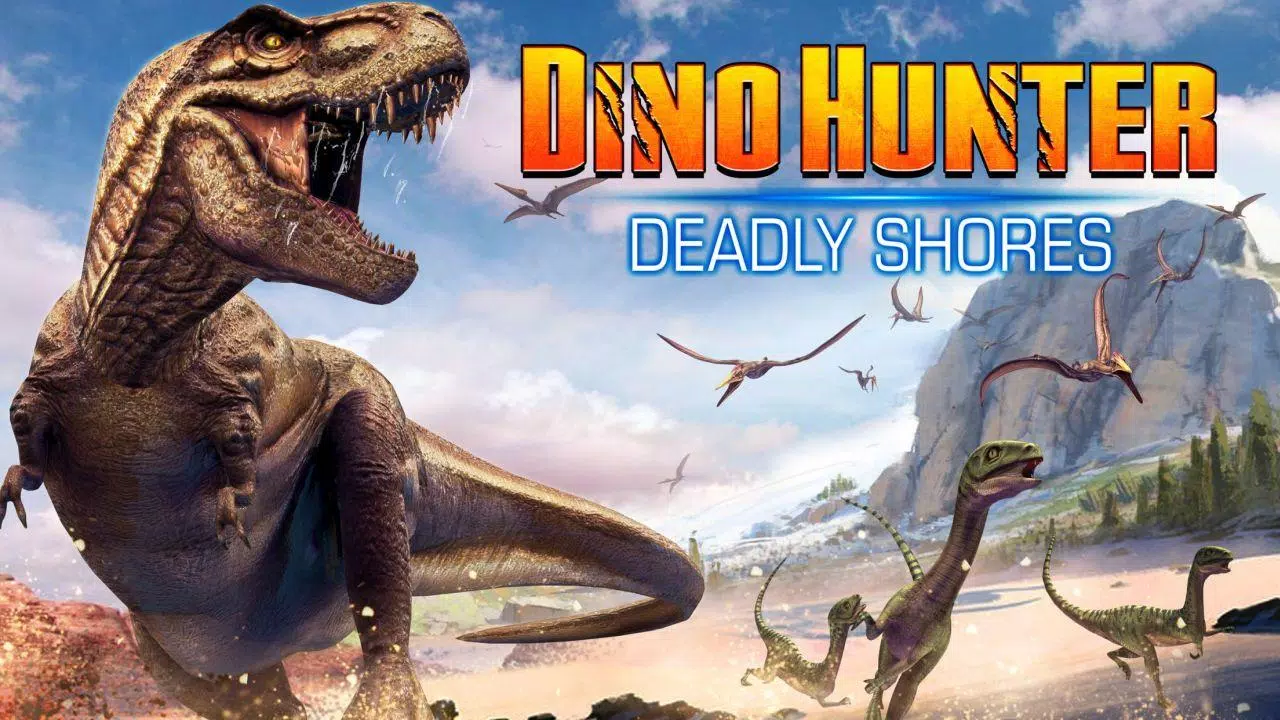 You can buy new weapons as you progress through the missions, including shotguns, sniper rifles, machine guns, crossbows, rocket launchers, and much more.
Dino Hunter: Deadly Shores is a fantastic first-person action game. This game is not only excellently adapted for touchscreen devices, but it also boasts some amazing graphics. Dinosaurs shouldn't be forgotten either.
Become a dinosaur hunter
Explore a hidden Jurassic island and hunt the most ferocious animals in history. Get up close and personal with Jurassic beasts long thought extinct, from the docile stegosaurus to the terrifying Tyrannosaurus rex.
Exotic Jurassic Locations to Visit
The shipwreck-strewn coast, overgrown jungle, and dinosaur graveyard are all Jurassic environments where you can kill dinosaurs!
Put powerful weapons at your disposal
Utilize destructive weapons like shuriken crossbows and rocket launchers. You will need an expert shooter strategy and a powerful arsenal to defeat these dinosaurs!
Learn to master a unique series of shooter challenges
As you progress through the different shooter series, you will be able to win rifles, shotguns, and assault rifles. You can earn even greater rewards if you complete all of your kills!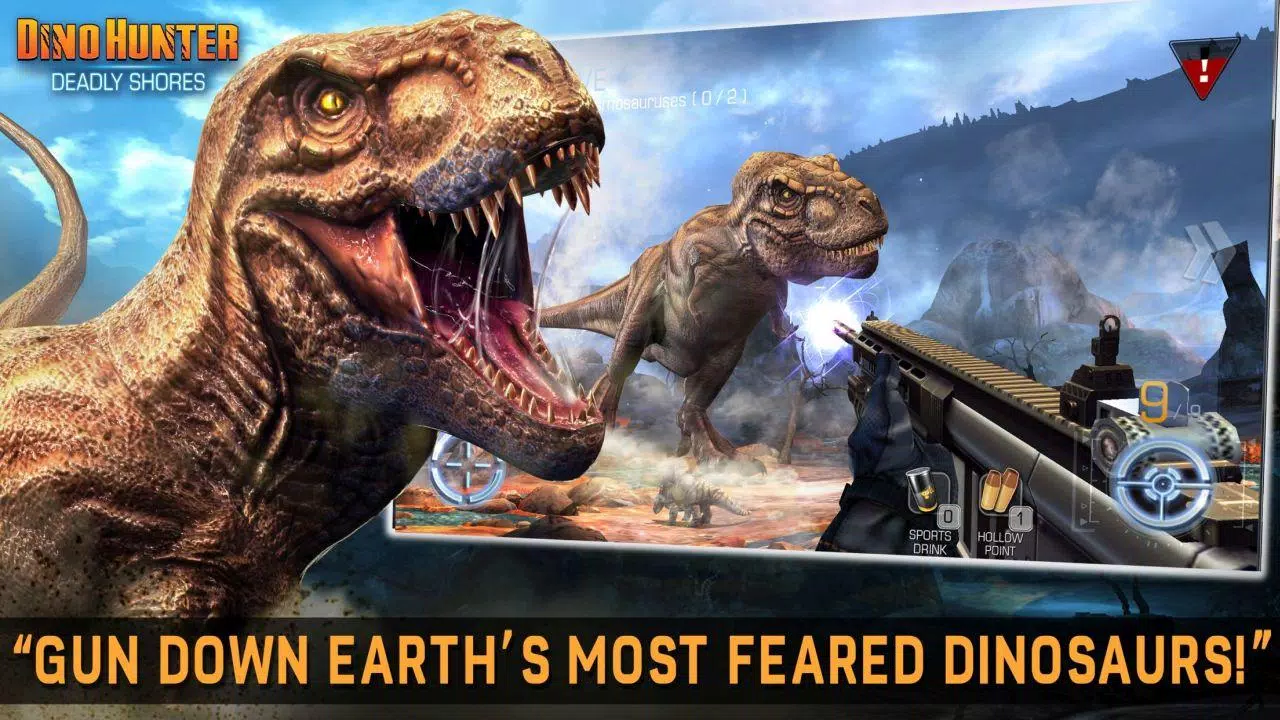 Experience Amazing Graphics
Dynamic shadows, hi-res textures, and realistic Jurassic models all combine to make this one of the most beautiful dinosaur shooter games on your mobile device!
High-end, immersive tablet gameplay!
"It's as if Glu Mobile was listening in on my mind as I imagined how good Deer Hunter 2014 would be with dinosaurs." – Kotaku
"… I am totally, absolutely, 100% completely behind blasting dinosaurs with guns until they explode, and happily that's exactly what Dino Hunter: Deadly Shores will let you do." – AppSpy
"Dino Hunter: Deadly Shores dishes up tons of behemoth-shooting action. It's an easy game to enjoy." – Gamezebo
It's hard to find a fault with Dino Hunter: Deadly Shores. There are plenty of dinosaurs in the game, and you can jump right in... " – Modojo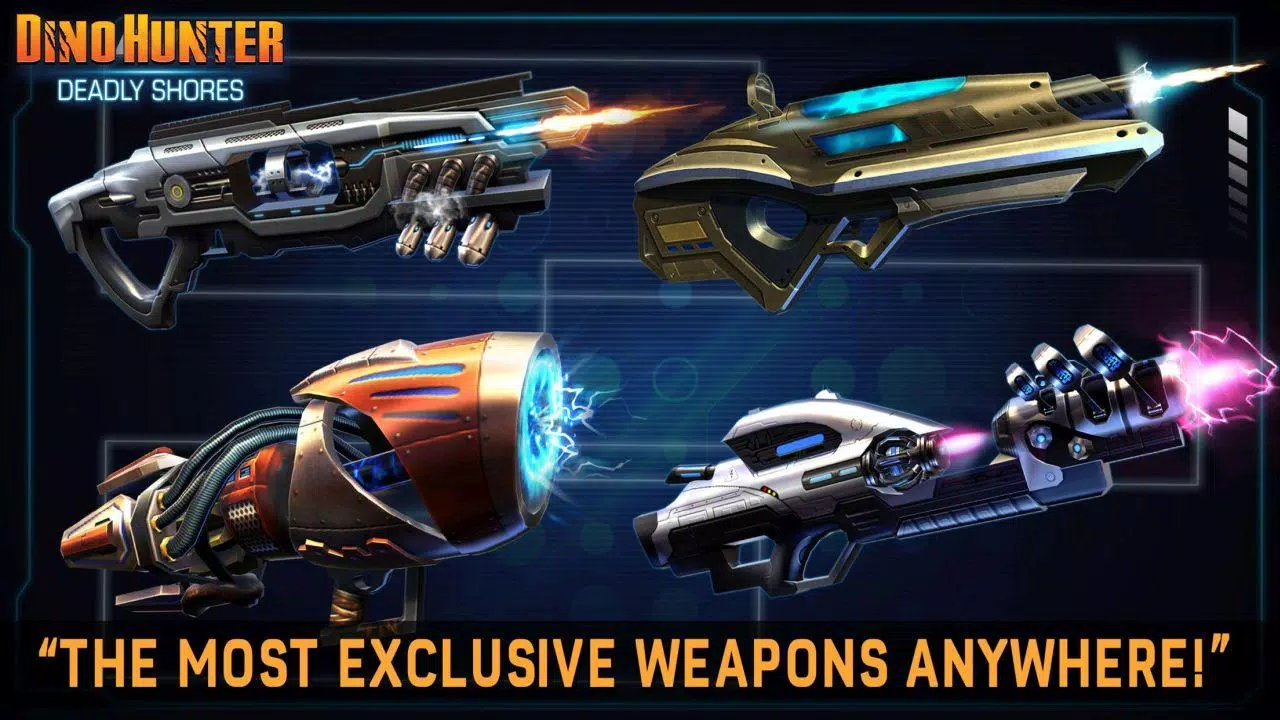 Please Note:
Playing this game is free, but you can buy some extra items with real money, which will be charged to your Google account. By adjusting your device settings, you can disable in-app purchases.
Children should not play this game.
Please buy carefully.
There is advertising in this game.
Based on the availability of these features, users may be able to interact with one another (e.g., chat rooms, player-to-player chat, messaging). Those who violate the rules of social networking sites cannot link to them.
Playing requires a network connection. Read our privacy notice to find out how we collect and use your data